This first Duckett to arrive in Ireland was George Duckett. Thomas Duckett purchased the land in the townsland of Kneestown, Co. Carlow from Thomas Crosthwait near the Lake District. Thomas Duckett's grandson, William, married Elizabeth Dawson Coates co-heiress of a Dublin banker, John Dawson Coates. Russellstown Park, which adjoins Duckett's Grove to the west, was built for their second son William Duckett in 1824.
Duckett's Grove itself was built in circa 1745 which replaced a smaller house that stood on the same site. It wasn't until circa 1825 that the Gothic turrets and arches were added when it was re-designed by English Architect Thomas A. Cobden. The full Duckett estate covered approx 12 thousand acres across 5 counties.
Gate Lodges – The Towers, The Iron House and the Chain Lodge
There were three gate lodges serving Duckett's Grove mansion which was one of the finest Gothic mansions in Europe at that time. The 3 gate lodges are known locally as 'The Towers', 'The Iron House' and 'Chain Lodge'. The centre archway of 'The Towers' served as the resident's entrance while the archway to the left, the current entrance to Duckett's Grove, was the workers and delivery entrance.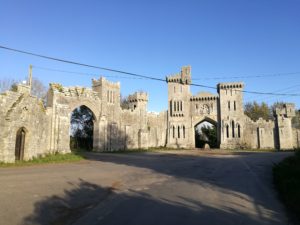 Groundsmen and gardeners
Eleven men were in full-time employment maintaining gardens, lawns and driveways to the mansion. The head gardener was John Sweeney. Duckett's Grove closed to the public in 1902. Maria Georgina Duckett was the last Duckett resident in Duckett's Grove. When she left to reside in Dublin the estate was reduced to 1,300 acres approx due to the Land Acts was managed by an agent until 1921 when a group of local farmers and labourers purchased the estate under the umbrella of the Killerig Land Committee.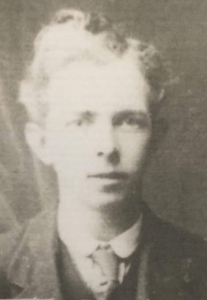 The Fire – The demise of Duckett's Grove
On 20th April 1933 a fire destroyed the Duckett's Grove House. The cause of the fire has never been identified. Coincidentally, or not, a week before it was destroyed by fire, locals noticed smoke coming from the house, but the fire was brought under control. Ms Duckett the last Duckett resident died in 1937.