This voluntary website is designed to provide the viewer with an insight into the factual history of the Duckett family and Duckett's Grove Demesne, while also incorporating local knowledge and stories from the period.  The website will be updated with additional articles periodically and will develop over time. If any reader would like to submit, information, documentation, photographs for the website they can do so by emailing (info @ duckettsgrove.ie)
This website and the John Sweeney Collection was founded in 2018 by James Doyle, launched on 09th April 2019 and is dedicated to his grandfather, John Sweeney (1889-1939), Kneestown, Duckett's Grove, Co. Carlow (formerly from Friarstown, Bennekerry, Co. Carlow).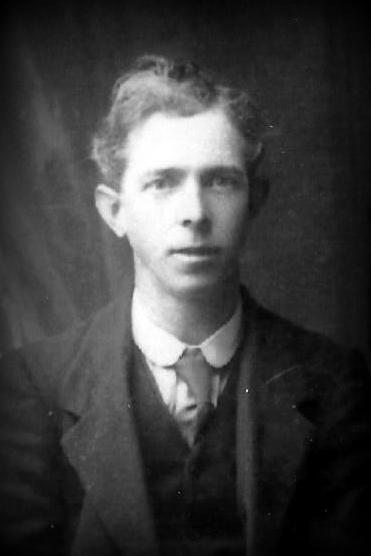 John Sweeney was employed by the Duckett family as Head Gardener of Duckett's Grove in the early 1900s.  During this time he also managed and carried out other works and repairs across the demesne in the capacity of Demesne Manager.  He was founding Secretary of Killerig Land Committee (later renamed Duckett's Grove Land Committee) and one of the twenty-eight Beneficiaries of Duckett's Grove demesne in 1921 when Killerig Land Committee purchased Duckett's Grove demesne with a loan of £32,000 from the Bank of Ireland with a vision of establishing a Forestry College in the Mansion.  According to local sources, John Sweeney was the only Roman Catholic Maria Georgina Duckett trusted.  He was a very loyal and honest employee and was held in very high regard by the Ducketts who considered him a member of their family. When Maria Georgina Duckett left Duckett's Grove circa 1916 she invited John Sweeney to continue to work for her at 'De Wyndesore', Raglan Road, Dublin.  He was appointed Caretaker of Duckett's Grove Mansion House and lands in 1930. His love for Duckett's Grove as a place of natural beauty and a sanctuary of solace lives on.
NOTE: Reproduction of any information and/or photographs from this website and/or any of social media platform in the ownership of Duckettsgrove.ie is prohibited without prior consent in writing from duckettsgrove.ie
Duckett's Grove (Garrán Duckett)
Rainestown, Palatine, Co. Carlow. (Bhaile an Raithin, Cnoic Arda, Co. Ceatharlach)
Duckett's Grove; considered to be one of the finest Gothic Mansions and demesne in Europe during the 19th and 20th centuries, consisted of twelve thousand acres spread across five counties.
Originally a three-storey over basement Georgian country house, built circa 1745.  Traces of this Georgian style can still be observed in the entrance block and front facade.  It stands majestically in the rural landscape of Rainestown, Palatine, Co. Carlow with its orchestration of turrets, castellated parapets, tall chimney pots and crenellations.  This now Gothic ruin contributes to a romantic atmosphere with a picturesque fantasy-line evocating a medieval world, creating an incidental and musical composition to the Carlow skyline.
Duckett's Grove Georgian country house as it was in 1745, replaced a smaller house on the same site.  Duckett's Grove Georgian country house was re-designed and extended by British born Architect Thomas A. Cobden at the request of John Dawson Duckett (1) circa 1825 at which stage the Gothic style mantle was added including the profound ornamentation, arches, turrets, crenellations and an octagonal viewing tower to the north.  In circa 1845, the Gothic mansion was further extended.  This extension was designed by John McDuff Derick Architect from Ballymote, Co. Sligo who added the granite ashlar viewing tower on an octagonal plan to the south, turretts, entrance screens and stable complex to the rear.  The last of the Duckett blood line to live in the mansion was William (Dawson) Duckett who died in 1908.  His second wife, Maria Georgina Thompson Duckett moved to Dublin circa 1916 closing the demesne and leasing the land.
As recorded on an Indenture, dated 12th July 1921, representatives of the Duckett's Grove Demesne signed over Duckett's Grove mansion and the demesne to Thomas Murphy of Straboe (Farmer), Michael Doyle, Tullow Street, Carlow (Merchant), Rev. Father Edward Campion (Tinryland & Bennekerry Parish), – R.C. Curate and Rev. Father John Kelly (Rathoe Parish).  All four were acting as Trustees of the Killerig Land Committee representing twenty-eight farmers and labourers from the locality with a vision of establishing a Forestry College in the Mansion.  Failure of the committee to agree the division of the land and keep up repayments to the Bank of Ireland resulted in The Land Commission taking over the demesne, clearing the debt.  By 1930 the Land Commission divided the demesne among the members of Duckett's Grove Land Committee (formerly Killerig Land Committee).  However, the bank retained ownership of the Mansion and eleven acres of land.
In 1931 the bank sold the Mansion and the eleven acres to Frederick George Thompson of Hanover Engineering Works, Carlow for the sum of £320.00.  Frederick Thompson demolished some of the outbuildings and the granite was re-used to build the Christian Brothers primary school in Carlow which still stands today.  The horse and deer heads can be seen on the granite entrance to Carlow Shopping Centre where Thompsons Engineering once stood, and the organ from the Mansion is located in St. Clare's church, Graiguecullen on the Carlow/Laois border.
Duckett's Grove was destroyed by fire in the early afternoon of Wednesday 19th April 1933, much of the nineteenth century statuary and grandeur is now lost.  Gradual decay continues to create a more medieval yet romantic effect.  Frances Brady occupied the mansion from 1976 where she established an animal sanctuary and horse riding school until her demise on 9th July 2004.  The skeleton of this Gothic Mansion with its tranquil walled gardens were acquired by Carlow County Council in 2005.  Following this acquisition the refurbished and replanted gardens were re-opened to the public in July 2007 with an official opening on 28th September 2007 performed by former Minister for the Environment, Heritage and Local Government, John Gormley T.D.  The gardens are currently open to the public.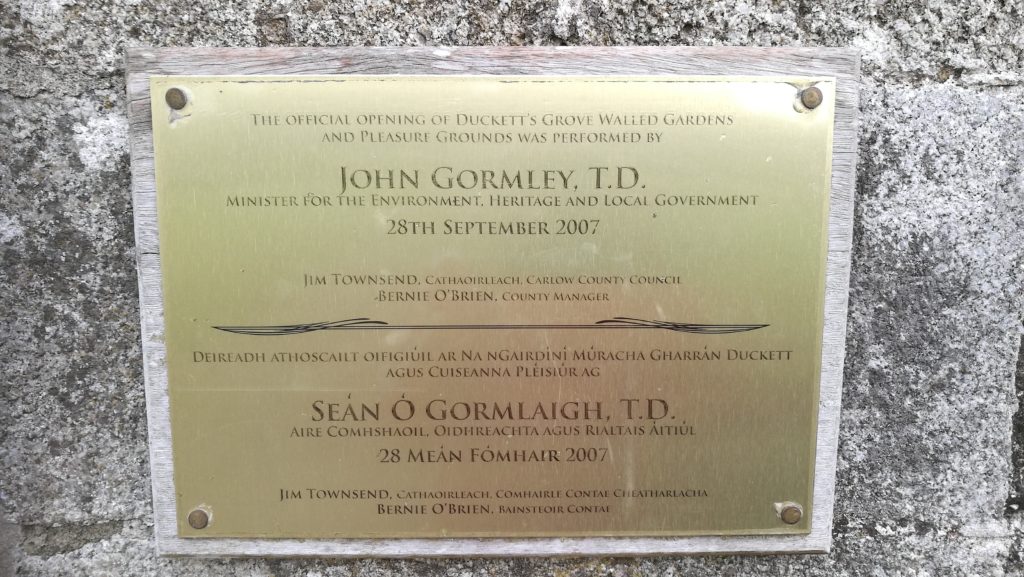 Article by J. Doyle – Founder, Owner and Administrator of DuckettsGrove.ie