The Rise and Fall of a Dynasty – Ducketts of Duckett's Grove
Origins of the Duckett Family
The Duckett ancestry can be traced back to Richard Duckett, Lord of the Manor of Fillingham, Lincolnshire, England in 1205, who was Judge and Magistrate in the counties of Bedford, Buckingham, Cambridge, Huntington, Norfolk, Northampton and Rutland in the reign of Henry III.  They were a very famous family in Great Britain being descended from the Norman and Plantagenet Kings and lineally descendants of  William the Conqueror and of King Edward I.
The Arrival of Ducketts in Ireland
Sir George Duckett was the first of the Ducketts to  arrive in Ireland.  He was one of many English landlords who travelled to Ireland during the Cromwellian period of the 1650s. This was a very turbulent time in Irish history, with frequent battles between the native Irish and the English invaders.  In 1377 James Duckett acquired Garyrigg Estate through his marriage to Margaret de Windsore.
In 1695 Thomas Duckett (1) who is stated, by Sir William Betham, Ulster King of Arms, to have been the son of James Duckett, of Grayrigg, Westmorland, by his third wife Elizabeth, daughter of Christopher Walker, of Workington, Cumberland, purchased five hundred acres of land in Kneestown, Rainestown, and Ardnahue, Palatine, Co. Carlow from British landlord Thomas Crosthwaite from Cockermouth near the Lake District in Scotland. Thomas Crosthwaite owned a vast amount of land in Ireland during that period and had himself acquired this and other lands which comprised of 495 acres of plantation in 1666 under the Acts of Settlement (1666 – 1684) in the reign of King Charles II.  However, Thomas Duckett (1) did not make use of this land until the 1700s when he built a country house in Rainestown, replacing a smaller house on the same site where Duckett's Grove stands today.
In the early years of the Ducketts story, inter-marriage with some well-connected and wealthy families contributed greatly to their financial standing and allowed for the expansion of the Demesne. Thomas Duckett's (1) wife Judith de la Poer was the heiress of the wealthy Pierce De La Poer of Killowen in County Waterford, grandson of the Honorary Pierce De la Poer, of Killowen, Brother of Richard, First Earl of Tyrone.  Thomas Duckett (1) had one son, Thomas Duckett (2) who was his successor and heir. The Duckett family extended their estate, and their wealth grew throughout the eighteenth century.
The only son from this marriage Thomas Duckett (2) (a member of the Religious Society of Friends, commonly known as Quakers) lived in Phillipstown Manor, Rathvilly, Co. Carlow, situated approximately 3 miles from Kneestown and Rainestown which was a property purchased from the Earl of Ormonde.  He married Jane Bunce, daughter of John Bunce, of Berkshire in 1687.  His last will and testament was dated 18th January 1732 and was proved on 13th May 1735.  Thomas Duckett (2) had three daughters and one son and heir; John Duckett Esq., (1)  of Phillipstown, Rathvilly, Co. Carlow and Newtown, Co. Kildare, whose last will and testament dated 13th April 1733, was proved on 17th May 1738.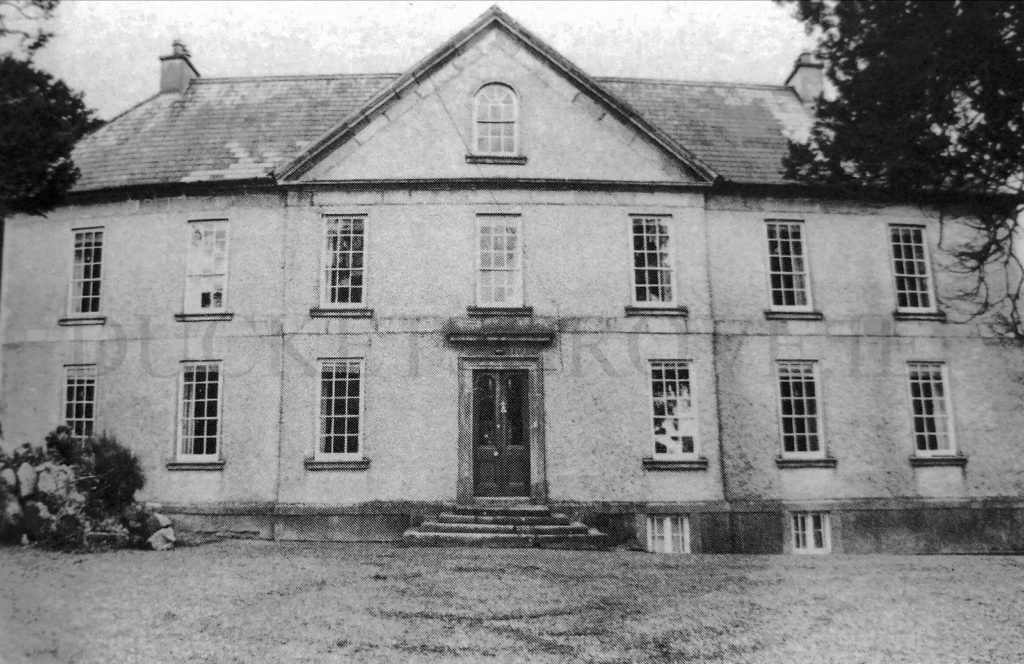 John Duckett Esq., (1) married Jane Devonsher who was daughter of Thomas Devonsher Esq. from Cork.  The first son of John Duckett Esq., (1) and Jane Devonsher was Thomas Duckett (3) of Newtown died unmarried.
Their second son William Duckett (1) of Phillipstown, Co. Carlow married Janet Summers, daughter of Samuel Summers, Esq., and they had no children.  Their third son, Abraham Duckett (1) of Ardnahue, Co. Carlow married Mary Jessop, daughter of Samuel Jessop, Esq.  Abraham Duckett (1) and Mary Jessop had four sons (three sons, who all died without children) and three daughters.  Their fourth son, Jonas Duckett Esq. (1720-1797) of Co. Carlow (who Duckett's Grove is said to have been named after) whose last will and testament dated 7th July  1796, was proved 21 December 1798, married Hannah Alloway, daughter of William Alloway, Esq. of Dublin.  They had four sons, their eldest son and heir being William Duckett Esq., (2) of Duckett's Grove was born in 1761.  In 1790 William Duckett Esq., (2) married Elizabeth Dawson Coates, daughter and co-heir of John- Dawson Coates Esq, a banker of Dawson Court, Co. Dublin.  This was the turning point of the fortunes and wealth of the Ducketts and the expansion of the Duckett dynasty.
William Duckett (2) and Elizabeth Dawson Coates.
It was the offspring of this William Duckett (2) that took on the title "Dawson Duckett" for his children.  William Duckett (2) and his wife Elizabeth Dawson Coates Duckett had four sons and two daughters;
Their first son and heir John (Dawson) Duckett (1) (1791-1866), inherited Duckett's Grove.  Their second son, William (Dawson) Duckett (1), it was for him that nearby Russellstown Park was built for in 1824.  Their other sons were Joseph-Fade, Thomas –Jonas who died unmarried. They also had two daughters, Elizabeth who died young, and Elizabeth Dawson who married  William –Richard Steuart Esq. of Steuart's Lodge, Co. Carlow, who was High-Sheriff in 1820.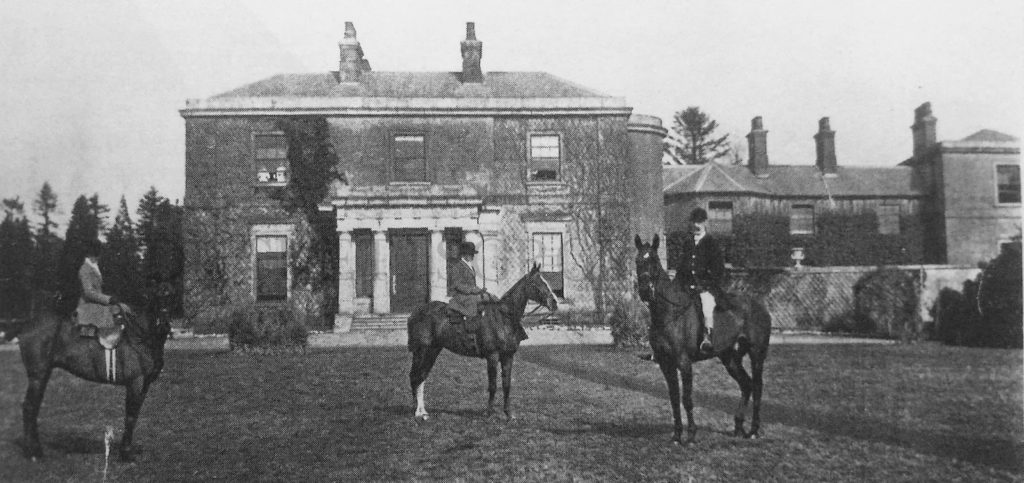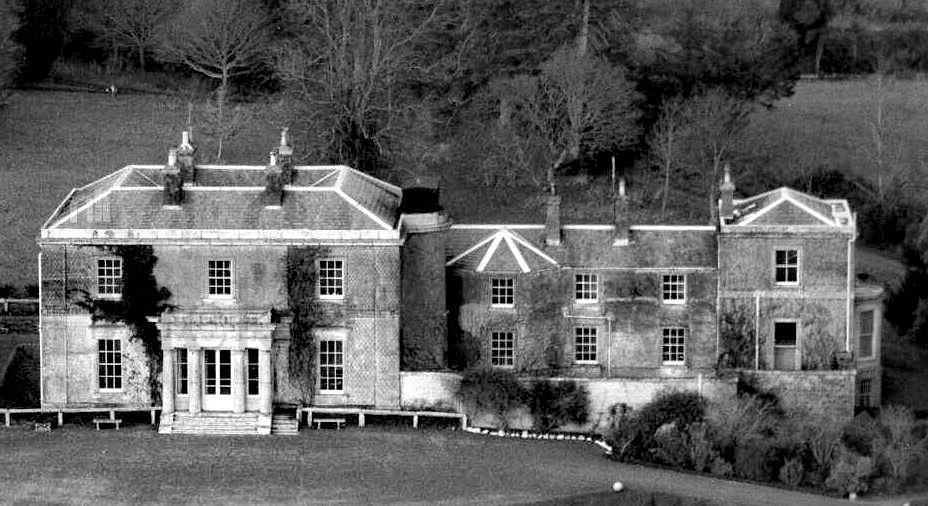 William (Dawson) Duckett (1) & Russellstown Park
Following the collapse of the Burton banking empire William (Dawson) Duckett (1) acquired Burton Hall from the Burton family.  William (Dawson) Duckett (1) was the first member of the Duckett family to hold a public office post in Carlow.  He was appointed Justice of the Peace and High Sheriff in 1825. In later years both positions were subsequently held by other members of the Duckett family, a testament to  their standing in the community.   William (Dawson) Duckett (1) married Harriet Isabel Anne Gordon.  She was the only daughter of Colonel Charles Edward Gordon of The Royal Artillery who was the son of Charles Gordon of Wardhouse and Kildrummie, Aberdeen Shire, England.  William (Dawson) Duckett (1) died on 10th January 1868 at the age of 70 years.  His wife Harriet died on 27th November 1852 at the age of 35.  Both are buried in the family tomb at Rutland (Urglin) Church, Carlow, along with their son William Gordon Duckett who died on 25th December 1857 aged 12 years. The text inscription on the family tomb of William (Dawson) Duckett (1) reads:
"In this tomb.  Harriet Isabel Anne the beloved wife of William Duckett Esqr of Russellstown Park who departed this life on 27th November 1852 aged 35 years.  She was the only daughter of Colonel Charles Edward Gordon of The Royal Artillery, Son of Charles Gordon Esqr of Wardhouse and Kildrummie Aberdeen Shire.  Also the remains of William Gordon Duckett eldest son of William Duckett Esqr of Russellstown Park who departed this life on the 25th December 1857 aged 12 years.  Also the remains of William Duckett Esqr of Russllestown Park who departed this life on the 10th January 1868 aged 70 years."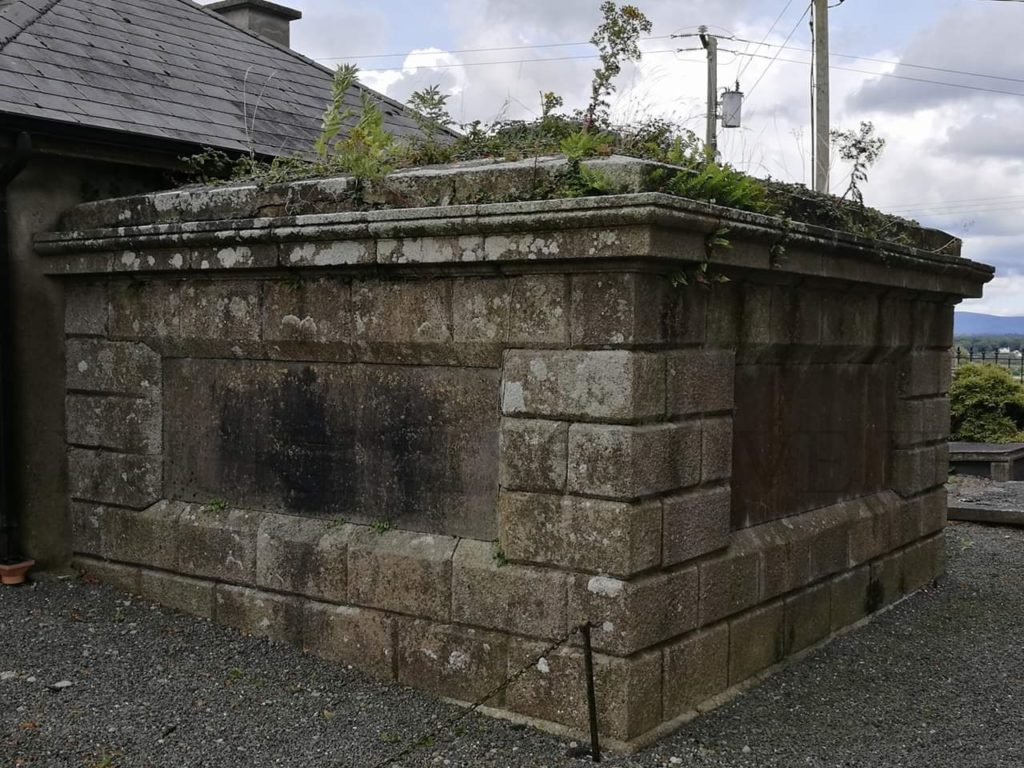 John Dawson Duckett (1) – (10th August 1791 – 27th September 1866), heir of Duckett's Grove and brother of William (Dawson) Duckett (1) was appointed High Sheriff of County Carlow in 1819 and married Sarah Hutchinson Summers, daughter of William Hutchinson Esq. from Timoney Park, Co. Tipperary on 16th March 1819.   They had two sons; the eldest, William (Dawson) Duckett (2) – (14th April 1822 – 22nd June 1908) was named after his grandfather and he was the last blood heir to Duckett's Grove.   Their second son, John Dawson Duckett (2), named after his father, died on 2nd June 1841 at Bath, England aged 14 years. They  also had three daughters, Eliza Dawson Duckett (Elizabeth) who died on 1st  February 1839 aged 18 years.  Their second daughter, Anne Duckett married Hardy Eustace of Castlemore, Tullow, Co. Carlow.   Their third daughter, Sarah Duckett died in Dublin on March 12th 1879 aged 53.  John Dawson Duckett (1) died on September 27th, 1866, at the  age of 75. His son, William (Dawson) Duckett (2) (High Sheriff of County Carlow 1854 and Queen's County 1881) became heir of Duckett's Grove.  On 16th January, 1868 at the age of 46, William (Dawson) Duckett (2) married  Anna Maria Morony, third daughter of Thomas Harrison Morony, of Milltown House, Milltown Malbay, County Clare. The couple had no children and his wife Anna Maria Morony died on 12th May, 1894. One year later William (Dawson) Duckett (2) at the age of 73 years married 21 year old Maria Georgina Thompson on 19th November, 1895.  Maria Geogina Thompson was daughter of Captain Robert Gordon Cummins and widow of Theophilius Thompson of Forde Lodge, Co. Cavan.
William (Dawson) Duckett's (2) marriage to Maria Georgina Thomson was recalled by James Gaynor in an interview recorded by James Maurice in the 1960s.  James Gaynor was a friend of William (Dawson) Duckett's (2).  The following is an extract from that interview:
"Best of all had been the astonishing festivities.  It seemed only yesterday when the 73 year old Mr. Duckett, game as ever, had brought home his new bride and her daughter.  The tenants then had taken horses from the carriage shafts, and pulled the ladies up the drive themselves, cheering an laughing through the castellated gatehouse and up the long drive with its sculptured images of queens an animals and I don't know what.  The festivities were the best of all. That evening, there were fireworks to which the people came on foot and in donkey carts. A great tar barrel blaze as the sun went down, and presently the rockets soared over County Carlow.  Mrs. Duckett gave a magic lantern lecture in the coach house.  Everyone danced till midnight, and then all went home to their lodges, their gatehouses and their cottages. Mr. and Mrs. Duckett, making sure that the flag had been correctly lowered, went along the long, polished corridors of the mansion, to bed."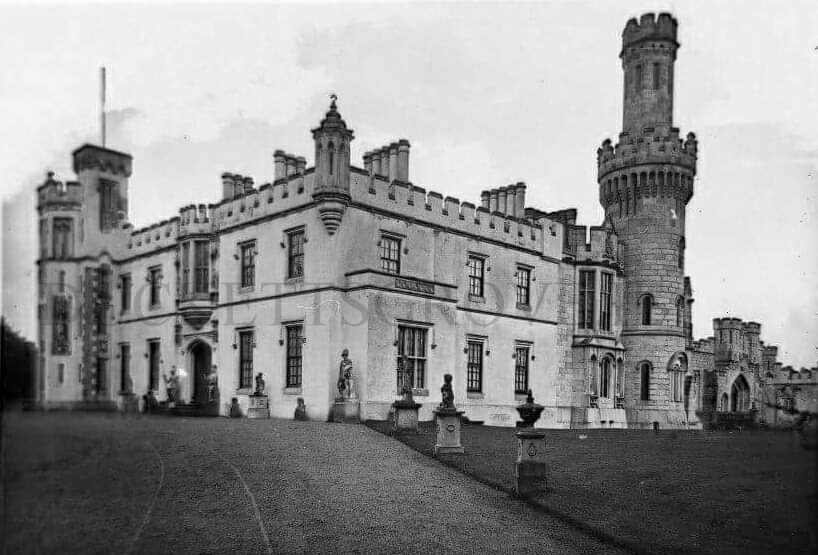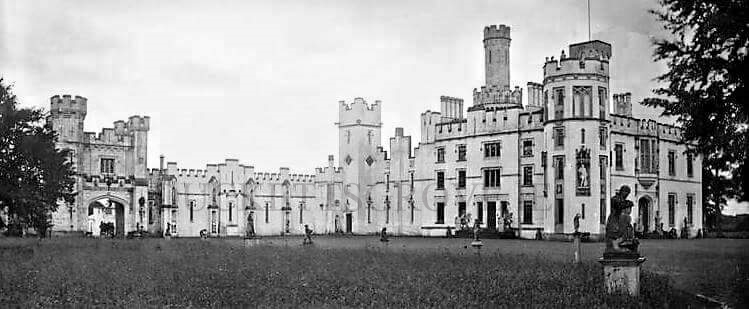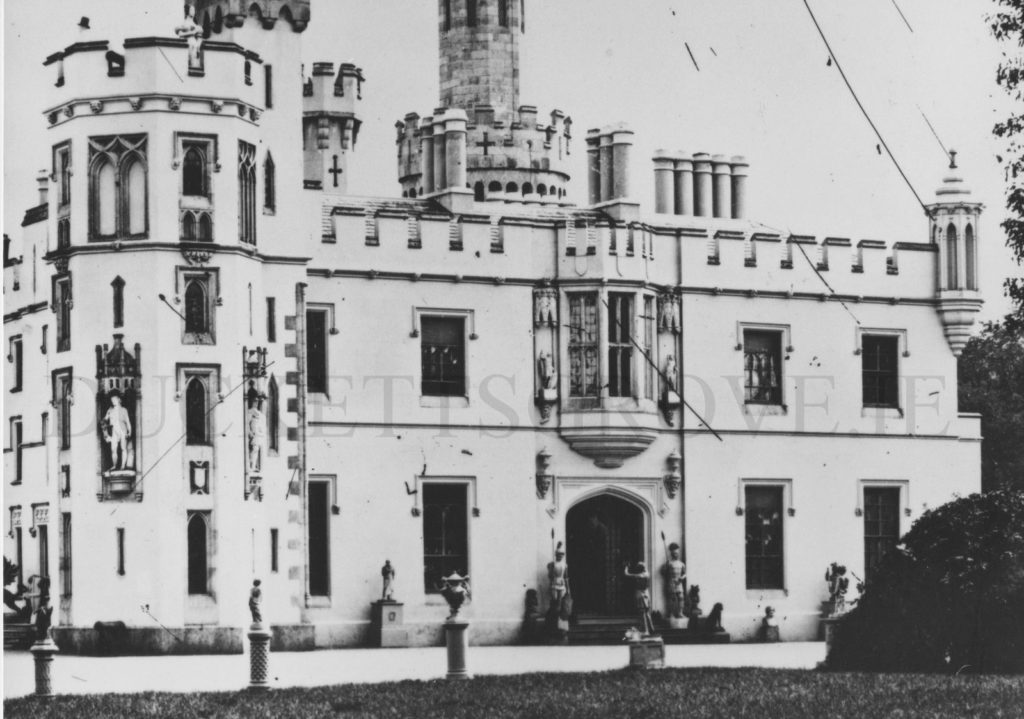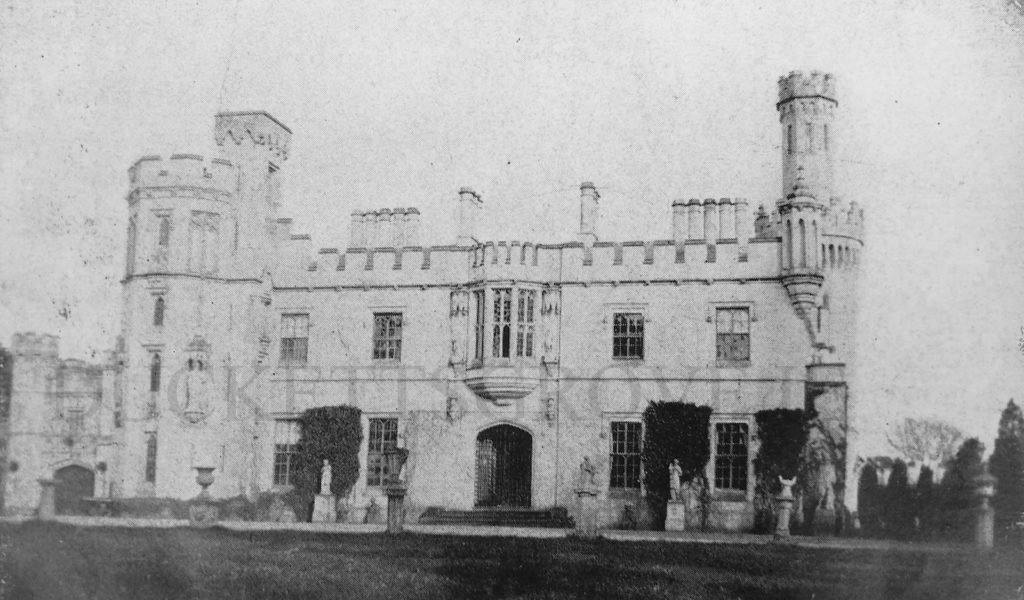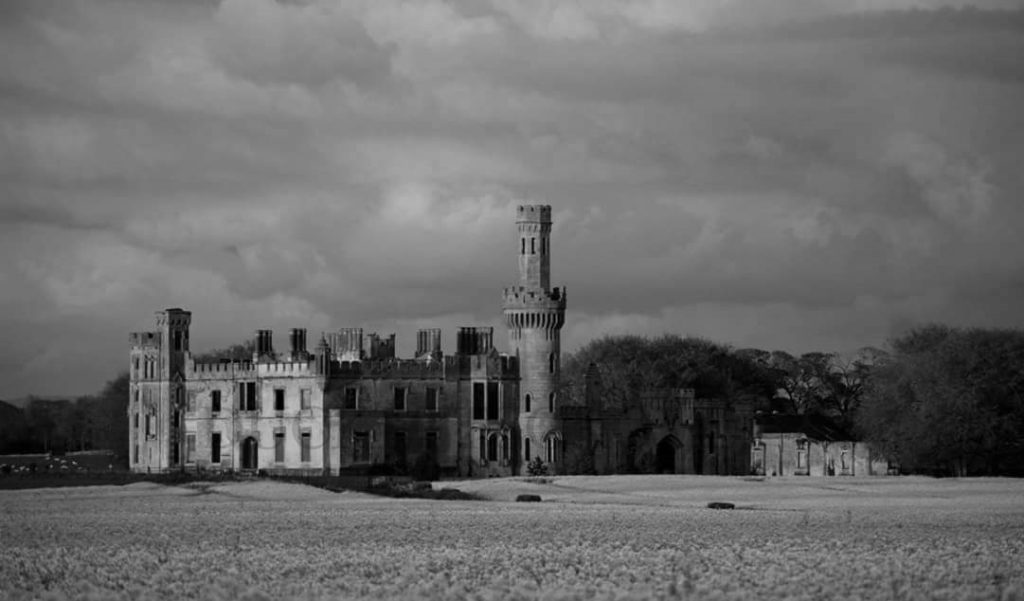 The fall of a Dynasty – The demise of the Demesne
Not much is known about what happened in Duckett family history for the next ten or fifteen years following the marriage of William (Dawson) Duckett's (2) and Maria Georgina Thompson, but a local newspaper published the following article concerning the Ducketts on 7th September 1901:
"The William Duckett Stewart in question being a first cousin of William (Dawson) Duckett (2). The following gives an insight into just how well known, wealthy and liked the family were at the time: 7th September 1901.
"We are glad to be able to record the safe return and in robust health or Mr. William Duckett-Stewart from South Africa, where he served for a lengthy period with the Imperial Yeomanry. Mr. Duckett's return was celebrated on Wednesday evening last in a very marked and friendly manner. An immense bonfire was lit on the fair green in front of the entrance gates to the family mansion, round which the villagers and their friends gathered. Dancing and refreshments were enjoyed until midnight by the throng of well-wishers, the local band playing a long and varied selection of music to the delight of the listeners. In the house, the large party who came to join in the welcome and to congratulate the hero of the evening was entertained to supper. The weather proved very favourable to the reunion and the rejoicings included a good display of fireworks, managed very ably by Messrs Belton & Co. of Carlow. The house party included Captain, Mr. and Miss Duckett Stewart, Mrs. W.B. Persse, Mr. Kennedy RM, Reverend J. Coyle, PP. Capt. and Mrs. Thomas and party, Mr. and Mrs. Fitzmaurice and party, Mr. and Mrs. Vigors and party. Mr. Duckett-Stewart, on his appearance, was voicefouresly cheered and on his returning thanks to his well-wishers, the cheering was renewed and the best of good wishes expressed for his future welfare." (sic).
 William (Dawson) Duckett (2) now had a new wife Maria and a stepdaughter Olive.  He didn't live that long afterwards, as he died on 22nd June, 1908 aged 86. He was the last member of the Duckett family line to live in Duckett's Grove Gothic Mansion, in Rainestown, Carlow, leaving just his wife Maria and her daughter living there after his death.  In his last will and testament dated 29th February, 1904, William (Dawson) Duckett (2) willed his estate to his widow, Maria Georgina Duckett with the exception of a small section of his estate willed to his nephew, John Hardy Rowland Eustace with the instruction that the Duckett family name be affixed to the name Eustace, giving rise to the name 'Eustace Duckett' from Castlemore.  Her daughter Olive married Captain Edward Stamer O'Grady circa 1916.  It was also at this time that Maria decided to leave Duckett's Grove following alleged threats from seven Carlow businessmen who were disgruntled and had become malicious in their feelings towards her, allegedly wanting to acquire Duckett's Grove Gothic mansion.  She decided to live in 'De Wyndesore', a mansion on Raglan Road, Dublin which was purchased for her as a wedding gift by her late husband William (Dawson) Duckett 2.  She spent some time moving between her Dublin and London homes and rarely returned to Duckett's Grove.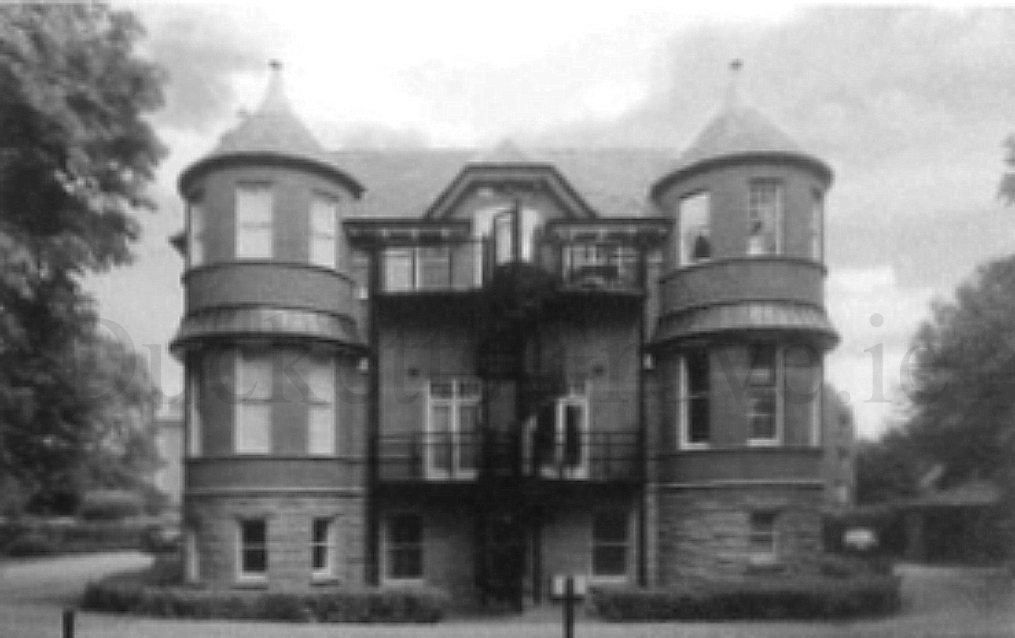 During the Irish War of Independence in Ireland, Maria decided that it would be in her best interest to sell the Duckett's Grove, and she was advised to move to England as a result of the alleged threats made against her. She moved to England and lived there until 1928, when she felt safe enough to return back to her house in Dublin. By this time she was allegedly suffering from a chronic psychological disorder from the strain imposed on her from threats.  This alleged disorder which was claimed, allegedly created a lot of problems for her, including overwhelming feelings of paranoia, believing everyone and members of the Roman Catholic Church in particular were "out to get her". Her living conditions were described as appalling and squalid, and she was placed in a mental institution in 1935 where she lived out the final years of her life, until her death on 11th March, 1937, at the age of 86.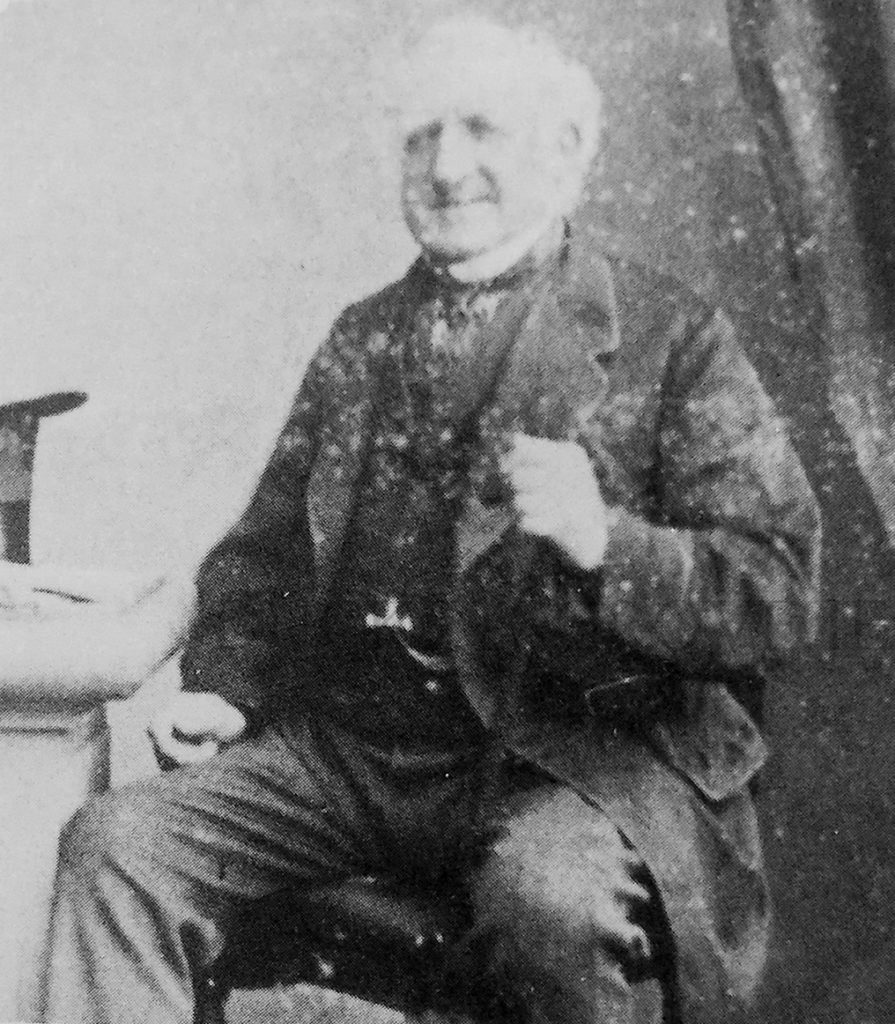 The last living person to have a claim to the Duckett wealth was Olive, Maria's daughter and William (Dawson) Duckett's (2) stepdaughter.  Maria left her daughter only one shilling in her last Will and Testament out of an estate valued at  £97,735 stating in her Will: "My daughter Olive, be it clearly understood, is cut off to a shilling. Had she been an ordinary, good daughter, she would have had all she could have wished for…. She was amply provided for in her stepfather William's Will." Olive did not accept this, and she claimed that her mother was not of sound mind at the time of writing the Will, and that she was in fact entitled to more than one shilling. Sadly for her, the judge declared in 1939 that "the Will was legitimate, and that was the final word on the matter." In accordance with the Last Will and Testament of  Maria Duckett, the money was donated to various charities, under the condition that they were British based and Protestant.
In the early 1900s the Duckett family in Rainestown, Co. Carlow came to an indignant demise with no blood heir to the estate.  A magnificent house which had been the Duckett family home and a demesne which once encompassed twelve thousand acres spread across five counties and had given employment to many people and where dinners, celebrations, tea parties, and meets  were held, and where royal visitors had been entertained; now stands abandoned and in ruins.  Happier days were now distant memories for Olive Thompson O'Grady, taking nothing with her only memories and the 'bitter shilling'.  One can only imagine her mixed emotions as she slammed shut the doors of a major chapter in her life and what was her home for so many years, leaving behind haunting echos ringing throughout the vastness of a now silent and empty mansion.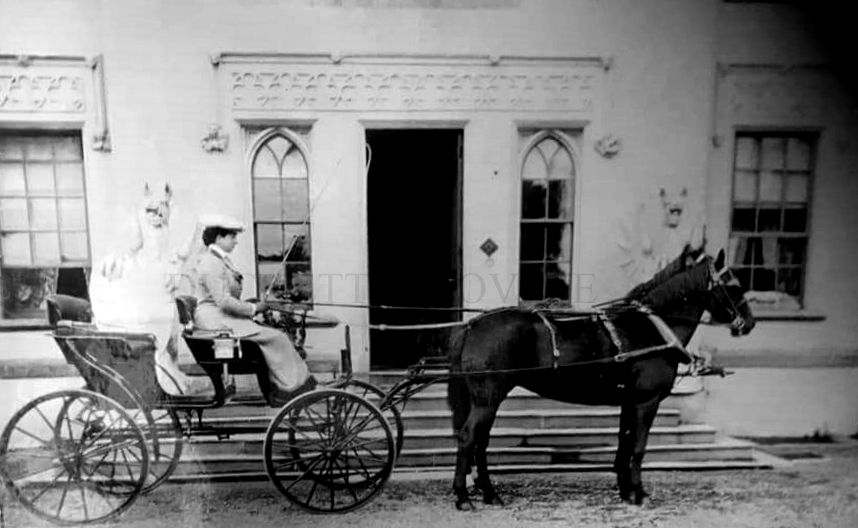 Today, Duckett's Grove, stands majestically in the rural landscape of  Rainestown, Co. Carlow, deafened by the sound of silence that haunts the corridors of a house that once was a magical fairytale.
Article by J. Doyle – Founder, Owner and Administrator of DuckettsGrove.ie