Duckett's Grove lies vacant
Maria Georgina Thompson Duckett had left Duckett's Grove circa 1908 and leased the estate for grazing and tillage until she decided to sell Duckett's Grove.
As recorded on an Indenture, dated 12th July 1921, representatives of the Duckett's Grove Estate had signed over Duckett's Grove Mansion and the estate to Thomas Murphy of Straboe (Farmer), Michael Doyle, Tullow Street, Carlow (Merchant), Rev. Father Edward Campion (Tinryland & Bennekerry Parish), – R.C. Curate and Rev. Father John Kelly (Rathoe Parish).  All four were acting as Trustees of the Duckett's Grove Land Committee representing 28 farmers and labourers from the locality.
Following the War of Independence and during the period of the Truce (July 1921 – December 1922)  the Mansion and grounds of Duckett's Grove was used as a camp for refresher training for members of the Irish Republican Army and for the use of the members of Cumann na mBan (the Women's Army).
Cumman na MBan at Duckett's Grove
Photograph below of three women standing on the Union Jack, with broken glass in the background at the north east facing door of Duckett's Grove.  These three women were later imprisoned by the Irish Free State authorities for activities associated with the Anti-Treaty forces.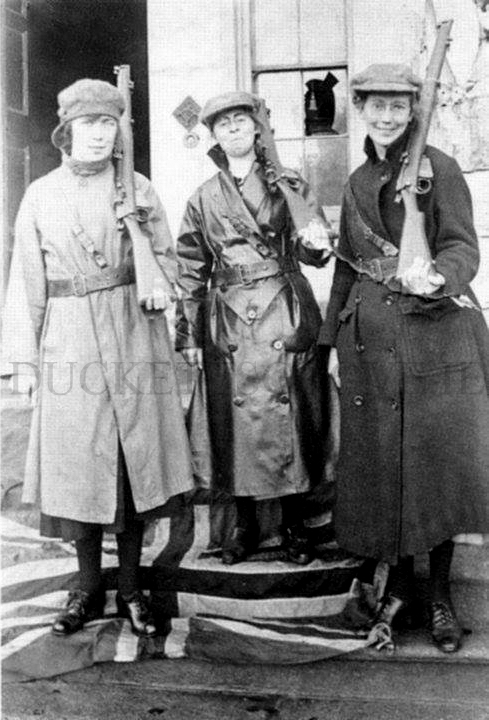 In the photographs above, all three women had escaped from Mountjoy Jail in October 1921, where they had been imprisoned by the British authorities during the War of Independence.  They made their way to Duckett's Grove in Carlow during the period of the Truce to have some respite from ' the Troubles'.  Marie Comerford, an indefatigable republican claimed that she had been sent to Carlow to inform the three women that they had been ordered by Countess Markievicz to face a Court Martial for not having told her of their plans to escape from Mountjoy.
Cumman na mBan Irish Republican Army Training Camp at Duckett's Grove circa 1922.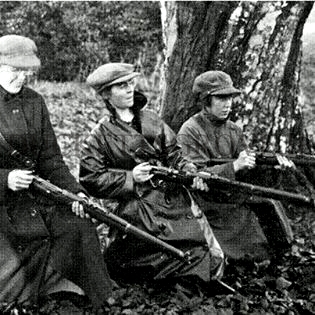 All three women in the above photograph had escaped from Mountjoy Jail in October 1921.
Standing to attention; members of the I.R.A. on parade outside the north east door of Duckett's Grove mansion with officers standing at the front of the group.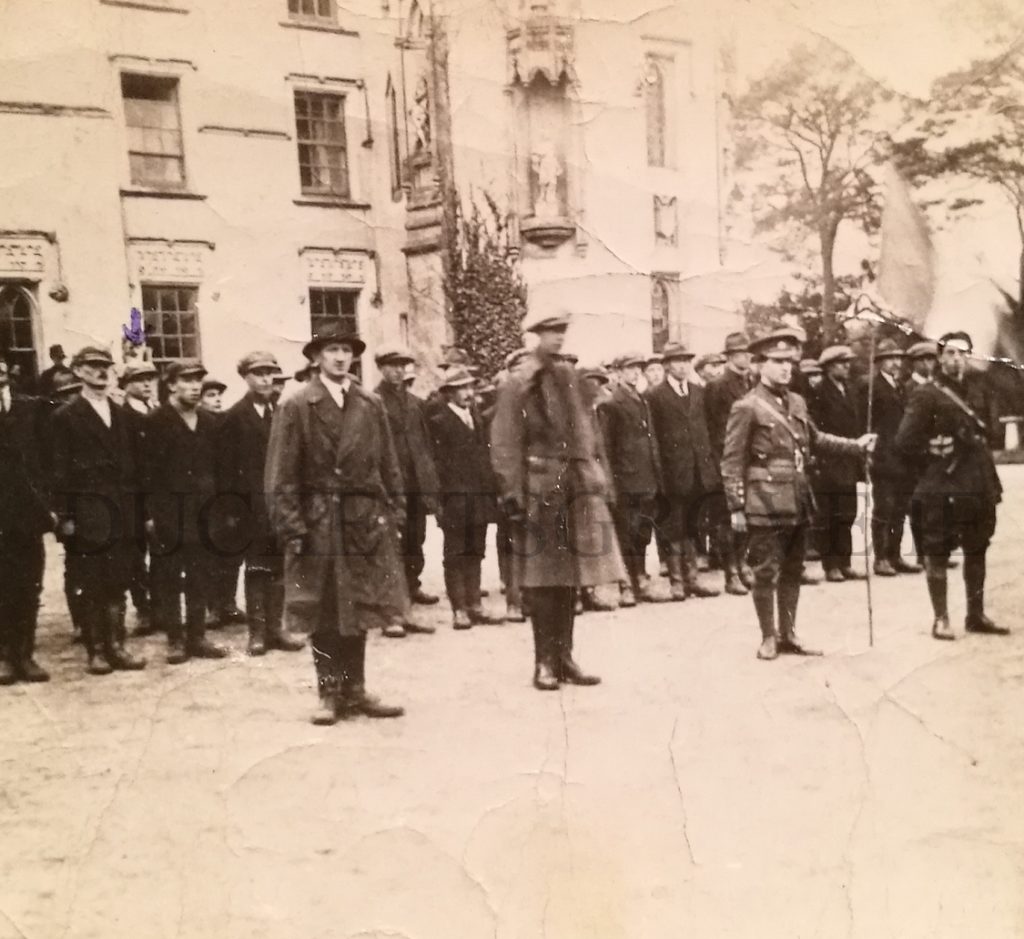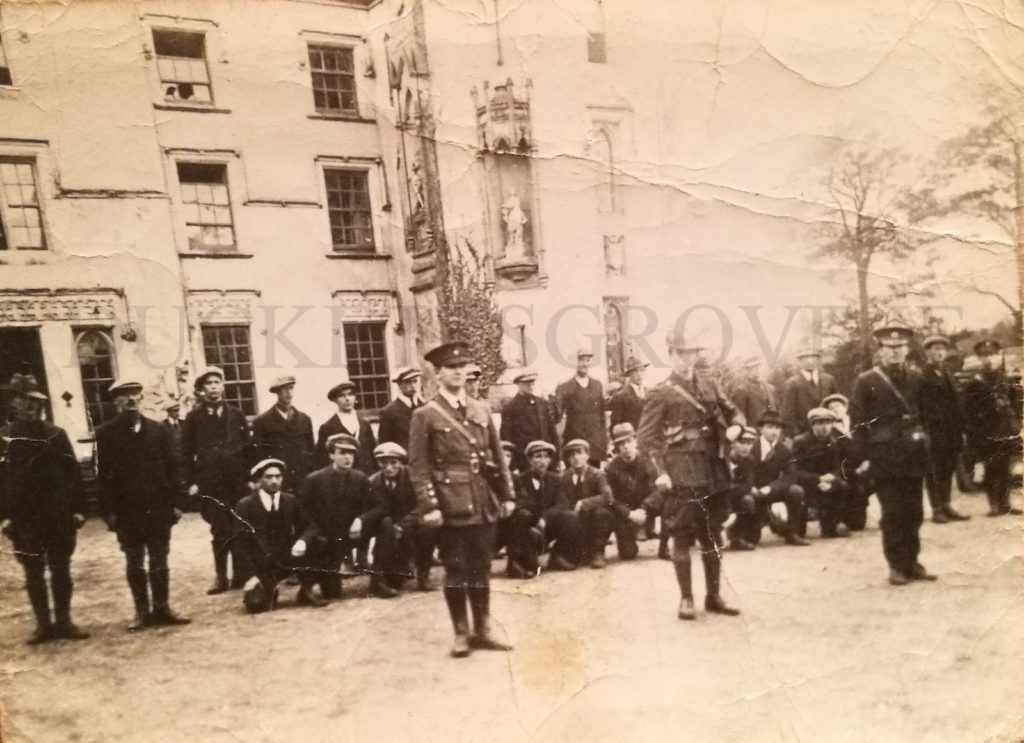 Some of "the boys" dressed in their finery with some of them displaying weapons in a relaxed pose on the step of the north eastern door to Duckett's Grove mansion.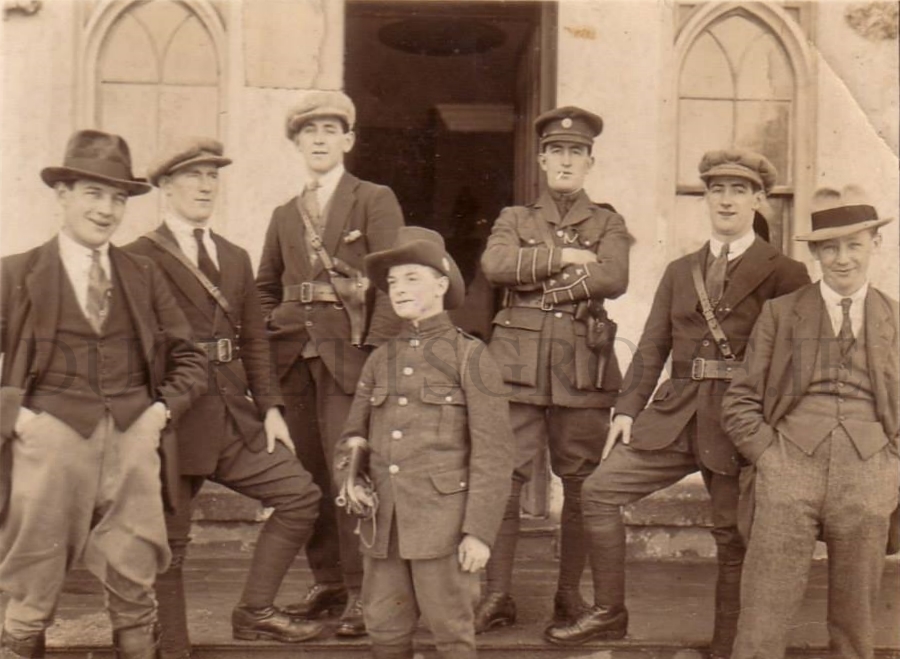 Anyone with any information on the names of the other men in the photographs are requested to email info @ duckettsgrove .ie